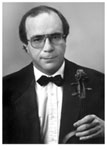 "The sound of soloist Levon Ambartsumian's violin was a recollection of the long-lost mysterious quality of David Oistrakh's performance, characterized by a complete fullness of tone achieved without any undue pressure or force."
Kommersant, Moscow, Russia
Welcome to the Web site of Levon Ambartsumian, a violinist, conductor, and Franklin Professor of Violin at the University of Georgia, the United States. Levon studied music at the Moscow Conservatory under the guidance of such virtuosos as Felix Andrievski, Yury Yankelevich, Leonid Kogan, and Igor Bezrodny. He has won awards at major international competitions and has been distinguished as Honored Artist of Armenia and Honored Artist of Russia. Levon is the founder, conductor, artistic director, and a frequent soloist of the ARCO Chamber Orchestra. Levon keeps high profile performing, teaching, releasing CDs, and presenting master classes throughout the world.
Levon's extended biography is in Biography section. The biography can be downloaded as a PDF file. The section also contains a printing quality portrait of Levon. You can browse through, and purchase Levon's CDs in Recordings section. Reviews section presents extracts from reviews of Levon's performances by many authoritative newspapers and magazines from around the world. Photographic memorabilia — pictures of Levon himself, his teachers and friends, other eminent figures in music and beyond that he is fortunate to have met are in Gallery. Finally, ARCO section is about the ARCO Chamber Orchestra, a talented international blend of musicians headed by Levon since 1989.